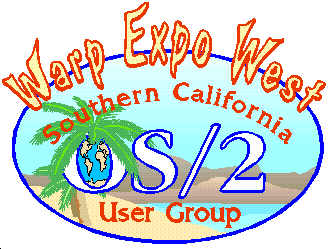 Presentation Descriptions and Materials
Updated September 22, 1999
Topic Areas
  Each presentation falls into at least one topic area  
| | | | | | |
| --- | --- | --- | --- | --- | --- |
|   | Internet | |     | Programming | |
|   | Multimedia | |     | Tutorial | |
|   | Networking | |     | Other | |
|   | Operating Systems | |     |   |   |
To view the handouts, examples, or other materials for a presentation, click on the title.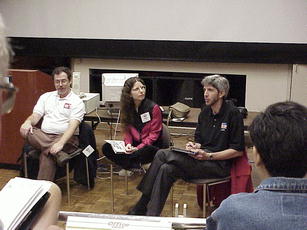 The new IBM strategy is already winning on two fronts: Their products are both technically impressive and commercially successful, while their services make money no matter if their customers need integration or remediation. But will this strategy sustain IBM's impressive recovery? Or will Windows 2000 and the IA-64 thwart what appears to be a brilliant comeback?

Join Peter Coffee from PC Week, Esther Schindler from Sm@rt Reseller, and Alan Zeichick of Camden Associates (and former editor of OS/2 Magazine) as they form a round table threesome of technology journalists to discuss these issues and the ramifications if IBM wins -- or loses.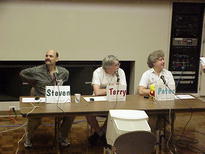 Be sure to have your "questions" ready when Sundial Systems hosts Warped Jeopardy! -- an exciting live game show of "answers" with an OS/2 twist. Featuring both local "celebrity" players and audience participation, this rather "warped" version of the ever popular TV show will be an event you won't want to miss.

Seating my be limited, so be sure to pick up your admission tickets early at the Sundial Systems table in the Exhibit Hall.
Questions abound about Linux. What? How? Why? Two members of the Unix Users Association of Southern California will answer at least some of your questions with this demonstration of OS/2 and Linux interoperability. To begin, you'll watch as Linux is installed on a PC that already has OS/2 on it. Once that's done, you'll see that the OS/2 HPFS partition is actually viewable from Linux. Beyond this, the presentation will also include a demonstration of networking with an OS/2 client connected to a Linux SMB (Lan Manager compatible) server.
Starting with the basic web server function of serving files back to the web browser, this presentation investigates the ability of a given web server to deliver documents to a web browser, including such issues as intranet and internet response times, file I/O bottlenecks, communication bottlenecks, and operating system constraints. Moving on from this point, the presentation discusses platform issues and the use of programs, Active Server Pages and Dynamic HTML and the effect they have on performance. Finally, the new Application Server architectures are discussed and their current and future ramifications.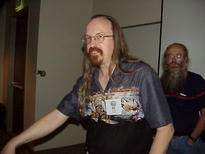 You don't have to look hard to find XML hype on the Web. But isn't XML (eXtensible Markup Language) just HTML with delusions of grandeur -- or is it something you really need to pay attention to? This session will give you a "view from a height" of what XML is and why it may be important to you and your business.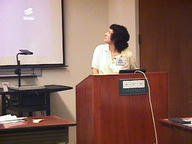 This session will be a mixture of some different and interesting REXX programming techniques. Melanie will discuss Stem Variables and the Parse command, two unique and powerful features of REXX. She will also show how to use VREXX2, which provides a way to add simple window, dialog and menu facilities to your REXX programs.
Come see and hear about the exciting new offerings from IBM to help you migrate to an e-business environment. You'll benefit from the decreased cost of ownership based on network computing and server-managed clients. Presented by the products' Development Manager, you'll learn about:
WorkSpace On-Demand server-managed clients,
Windows32 feature for WorkSpace On-Demand,
Domino Server performance improvements,
Java server performance improvements,
capacity enhancements for TCP/IP,
detailed information on the Warp Server for e-Business content including the Journaling File System, Logical Volume Manager, WebSphere, NT Server management, and many other features.
The presentation is targeted for people interested in product content details and the value of these enhancements to the marketplace.
REXX can be used to enhance the functionality of almost any standard C program. Conversely, C can be used to make many of the powerful features of the OS/2 Warp operating system available to REXX programs. This mutually beneficial relationship is made possible by OS/2 Warp's C-to-REXX programming interface. This session explains the many facilities available in this programming interface, with an emphasis on practical usage of each.
This presentation will introduce you to the Java language with an emphasis on getting you started on your first Java program. Topics covered will include JDK issues, basic Java language concepts, applications vs. applets, Java tools, and Java resources. Contrasts between Java versions and new Java2 features will also be briefly covered. The goal of this session is to arm the attendee with the skills necessary to start developing Java applications.
Warpicity (war-pi-si-ty - like electricity) has three elements:
The Warpicity Proposal presented at Warpstock '98, consists of a user community business enterprise, the enterprise staffing, and special tool, the Developer's Assistant (DA), for staff use.
The Warpicity Methodology relates to the use of the DA in software development/maintenance. The methodology is expected to produce a "50 times time reduction, 200 times cost reduction" over current methods. It achieves this through shifting clerical support from manual to machine labor.
The Warpicity Project represents ongoing efforts in getting to the implementation of the DA.
This presentation will provide a more detailed look at the methodology as well as the current status of the project.
After managing web sites for UCLA and other organizations, Virginia Hetrick has developed successful strategies for designing and running web sites. If you're involved in a managing web site (or even just thinking about it), this presentation is for you. Because, no matter what, you'll inevitably hit the web wall - and find you need some serious web site management technology. This presentation will identify the issues which lead to hitting the web wall and show you how to solve the problems that ensue.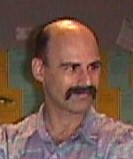 The Workplace Shell (WPS) is one of OS/2's most powerful, yet under-utilized features. For developers, the WPS offers a rich object-oriented design. By subclassing existing desktop objects, a developer can leverage the existing WPS functionality in his own program. This session will explore the details of building your own WPS objects in addition to several important debugging and development techniques.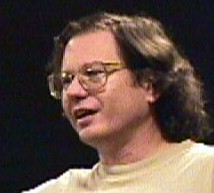 So you own a relational database and now want to do something with it. The first step is to come up with a problem you need to solve, like keeping a home inventory for example. But where do you go from there?

This session will give you an introduction to thinking about your problem "relationally" -- how to best capture and express your data as not just any database, but a relational one. We'll cover both the theoretical and practical aspects (and the tradeoffs between them) so that you can take better advantage of whatever relational database product you're using.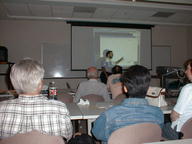 IBM considers OS/2 to be a business computing platform but it is much more flexible than just that. In this presentation, you'll see how you can use Octave with OS/2 as an inexpensive mathematics and engineering computation and analysis tool. You can use it to help you do tasks ranging from your math homework to complex signal analysis. Ben and Rocky will review what is required to set it up, what support files and resources you will want to make it work for you, and what capabilities you will have when you're done.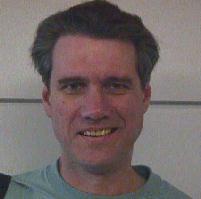 Can't be there in person? Internet communication is almost as good. See the full range of internet-based communications methods, from traditional asynchronous protocols such as email, lists and newsgroups, to live interactive sessions with chat, instant messaging and CUSeeMe. Learn about current OS/2 resources and discuss the importance such capabilities will have for our everyday lives as bandwidth and processing power increase and connectivity becomes truly universal.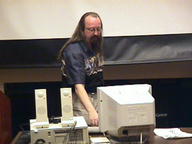 This session will give you a slightly technical introduction to XML (eXtensible Markup Language). You'll learn how XML is different from HTML, how to create a well-formed XML document, how to parse and validate an XML document, and some of the things you'll need to consider when designing XML documents.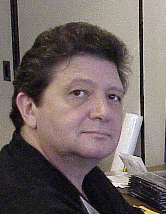 "Pre-Execution Services" enables OS/2 WorkSpace On-Demand (WSOD) client machines to boot from the LAN, without the use of a RIPL or PXE chip. Remote Client Connection can help considerably in the implementation and deployment of WSOD because it permits the use of legacy LAN adapter cards in client machines, thus reducing both hardware and administrative costs. This feature also allows the use of alternate MAC addresses. System administrators are no longer required to use the burned in MAC address on the Network Adapter. This alone makes the use of PE Services superior to RiPL/PXE chips. A menu of target hosts can be presented to the user at pre-boot time. This menu, which is installation defined, can direct the user to boot from a particular server, or a particular operating system, including the local hard drive. Other PE Services are Pre-Execution Logon, Dynamic MAC addressing (DMAC), Remotely Controlled Boot Mgr., and Personalized Local Data Drive.
Netscape Communicator has a built-in web page creation tool called Composer. In this session, you'll learn how to use Composer and some tricks to help you improve the look of your web pages. With Composer, you can quickly create all the pages you need for a great-looking web site. And you might get so enthused you'll find yourself wanting to keep expanding and enhancing your site.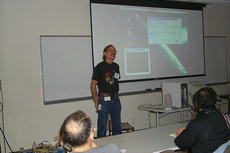 Part 1 - Video Madness
Jerry will explore OS/2 options surrounding video capture and editing. He'll cover the available programs and your options with current vs legacy hardware requirements. Additional information will be available concerning capture cards that OS/2 supports out of the box that aren't documented as such.

Part 2 - Sound System Madness
Multimedia will continue with an exploration of the various sound formats OS/2 supports including WAVE,MP3, SND, and MIDI sequencers. You'll get an overview of sound hardware and newly released sound support for both PCI and USB equipped devices. And, if time permits, Jerry will explain the OS/2 multimedia subsystem and editing the MMPM2 ini file (a poorly documented part of OS/2).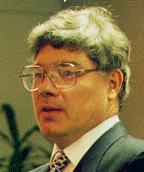 Using the tools included in Warp, it's easy to build your own small network. We'll look at what hardware is necessary and how to configure the software to make the most of your resources.
We'll discuss some of the practical issues you face in developing real solutions using Java such as performance topics, product packaging, tools options, and design decisions. Lessons learned during development of server-based Java applications will be covered. And, experiences from this year's JavaOne Conference will also be addressed.
Don Baker is a paper specialist. He will reveal many of the tricks the experts use to get professional quality output from today's Inkjet printers.
IBM's Network Computing Software Division (NCSD) is ready to show customers what its products can do! Whether it's a proof of concept, pilot program, or actual deployment, NCSD has services that can help. This presentation will give you information on migration readiness assessments, Year2000 readiness assessments, network computing operating system services, the SecureWay services, and solutions and services based on Java, XML, and the application framework for e-Business. As these IBM products and solutions roll into the marketplace, IBM is also increasing their e-business services to ensure smooth and effective migrations and deployments.
---
The Southern California OS/2 User Group
P.O. Box 26904
Santa Ana, CA 92799-6904, USA
Copyright 1999 the Southern California OS/2 User Group. ALL RIGHTS RESERVED.
SCOUG, Warp Expo West, and Warpfest are trademarks of the Southern California OS/2 User Group.
OS/2, Workplace Shell, and IBM are registered trademarks of International Business Machines Corporation.
All other trademarks remain the property of their respective owners.