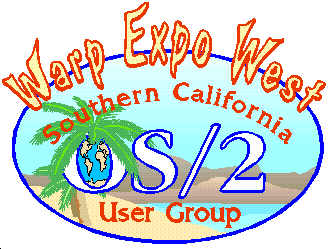 Exhibitors at Warp Expo West
Updated September 23, 1999
The following exhibitors participated at Warp Expo West. Thank you one and all!
| | |
| --- | --- |
| | Demand Systems  not only uses OS/2 on their own computers, they sell OS/2 software and PC hardware. |
| | IBM will showed WorkSpace On-Demand running on OS/2 Warp Server for e-business. They highlighed the Remote Client Connection feature for WorkSpace On-Demand which emulates the two popular hardware remote boot chips in use today, RIPL (Remote Initial Program Load) and BOOTP (Boot Protocol). Using a software approach to remote boot, this feature eliminates the need for customers to upgrade legacy network adapter cards. IBM also showed their new PC DOS 2000 and Windows 3.1 clients for WorkSpace On-Demand. In conjunction with the OS/2 client, these new clients expand the scope of this centralized management environment. |
| | IADS demonstrated three technologies during Warp Expo West. Project Scheduling techniques were demonstrated including sizing the cost of bringing new personnel onto a project and determining the project recovery point. OS/390 powered web servers were demonstrated showing that bringing a web server up under OS/390 is as easy, if not easier, than bringing up an Intel based server. IBM's Personnal Communications package, version 4.2 for OS/2, was demonstrated using the internet as the medium for connecting to host resources. |
| | The Warped Code Cellar showed HOUSE/2 and HOUSE/290, home automation programs which control X-10 devices, with a sneak preview of what's coming. Hope you didn't miss their "Virtual Keychain Remote," a unique application that has you wondering how this can be done in OS/2. They showed why you need UPS Monitor for OS/2 for protecting your system. Also rxPortIO for controlling digital I/O boards, FMRadio for controlling the AIMS FM RadioTrack, and their rxGPIB REXX library for controlling instruments over the GPIB instrument bus. |
| | The SCOUG Internet SIG has been active since IBM acknowledged the importance of this new realm by bundling internet connectivity with Warp 3. ISIG members demonstrated many Warp capabilities to access the expanding features of the internet. And, they provided a window to the world to show off our Expo by providing real-time photos and dialog with our many friends across the country and around the world. |
| | Theta Band Software is committed to delivering next-generation multimedia and internet applications and system software for personal computers. Two new products were shown for the first time at Warp Expo West: Multimedia Pack, a collection of utilities to enhance OS/2 multimedia; and WarpCharge, the first credit card processing software available for the OS/2 platform. WarpCharge provides the missing piece in your OS/2 e-commerce solution, the online payment system. |
| | Despite all the trumpeting about NT, OS/2-based systems are still the backbone of many, if not most, major manufacturers' automated attendant/voicemail product lineups. These OS/2 products are mature and reliable and they also don't need vast hardware resources to do the job. Bob Butler of Active Voice showed an OS/2 system operating in a test setup with a small phone switch and network in conjunction with Auto VoiceSystems of Irvine. Auto VoiceSystems is an Active Voice dealer and also partners in the selection, supply, installation and maintenance of phone and IVR systems. Active Voice is the largest independent manufacturer of PC-based automated attendant/voicemail systems. |
| | Get ready for printing success! Klassic Specialties provides the highest quality media, ink, and related products to help their customers attain the full potential and benefits that can be achieved with today's ink jet printer technology. SCOUG published an interesting interview with Don Baker, the owner, last year. |
| | Sundial Systems brings you a number of end user OS/2 applications - Relish for time management, Clearlook word processor, DBExpert database and application builder, and Mesa 2 spreadsheet. The newest member of their family is the Rover Pack for navigating your desktop and a whole lot more. Sundial also showed some new things they are working on. |
| | The Phoenix OS/2 Society, Inc - POSSI - is an international computer user group dedicated to OS/2 and OS/2 Warp. The Society was founded in 1994 in Phoenix, Arizona, USA and has members around the world - making it the largest OS/2 user group anywhere. You could peruse (and purchase) current and back issues of their award-winning magazine extended attributes and great POSSI merchandise. At the same time, you could learn about Warp Tech, their technical conference for OS/2 users and developers scheduled for May 26-28, 2000. |
| Serenity Systems | Serenity Systems featured Wise Manager, a complete computing environment, and their new WiseTalker Database Server, which provides database access over the telephone.  They also demonstrated the first product to integrate their Managed Client(r) and CTI (Computer Telephony Integration) product technologies. It's a new touch screen time clock application from Terra InterLink which automatically updates payroll services over the telephone - part of a new Finance and Accounting package due later this year. In addition, Serenity provided a dedicated Wise Manager network for the Vendor100 exhibits. |
| | NetZero provides consumers nationwide completely free Internet access and e-mail while offering advertisers the most sophisticated targeting capabilities available today. Developed in Java, NetZero's software supports many popular platforms including OS/2. |
| | V*O*I*C*E - Virtual OS/2 International Consumer Education - is an organization dedicated to the promotion of OS/2 Warp to the general consumer with activities to provide current and factual information about OS/2 Warp and OS/2 products. Among other things, VOICE conducts bi-monthly IRC meetings, hosts software-specific chats, and is actively involved in OS/2-related projects. |
| | MSR Development showed BackMaster 3.0, the leading OS/2 desktop backup program to support Floppy, Parallel, and SCSI interfaced tape drives in the same product. They also had BackMaster Ultra 1.0, for OS/2 backups with removable storage that are up to 10 times faster than typical tape drive systems. |
| Morcott Financials | Todd Morcott showed his Quicken-like Java-based bookkeeping and accounting software. |
| | Chris Burke is a SCOUG member who does financial trading and money management using OS/2 and OS/2 applications. Unfortunately, Chris was sick and could not attend the Expo. |
---
The Southern California OS/2 User Group
P.O. Box 26904
Santa Ana, CA 92799-6904, USA
Copyright 1999 the Southern California OS/2 User Group. ALL RIGHTS RESERVED.
SCOUG, Warp Expo West, and Warpfest are trademarks of the Southern California OS/2 User Group.
OS/2, Workplace Shell, and IBM are registered trademarks of International Business Machines Corporation.
All other trademarks remain the property of their respective owners.