May 2002
---
Networking Your Home
As Presented at SCOUG, April 2002
by Mike Rakijas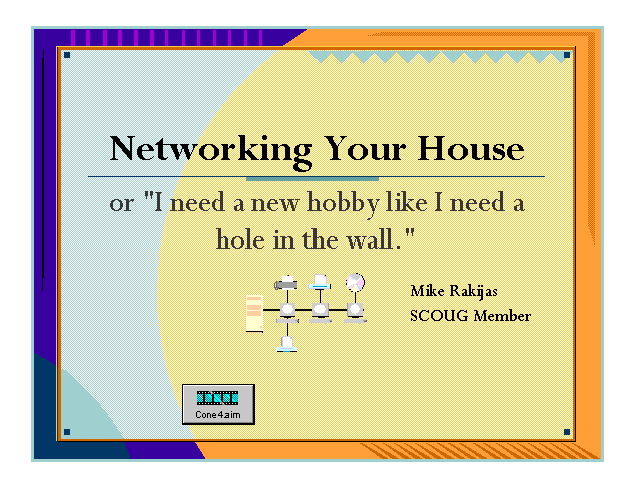 This is a nuts and bolts kind of presentation by Mike (we all know him as Rocky) Rakijas on what it takes it network your home. It's based on actual experiences in his own home, and comes with plenty of sweat equity.

Rocky's made his Freelance Graphics presentation available to us.

You can download a zip of the Freelance file if you like: nyh.zip, 580,574 bytes
Or, you can go through it online if you prefer.

Thanks, Rocky!

---

And thanks too to Dave Watson for his artistic photo of Rocky from the meeting.
---
The Southern California OS/2 User Group
P.O. Box 26904
Santa Ana, CA 92799-6904, USA
Copyright 2002 the Southern California OS/2 User Group. ALL RIGHTS RESERVED.
SCOUG, Warp Expo West, and Warpfest are trademarks of the Southern California OS/2 User Group. OS/2, Workplace Shell, and IBM are registered trademarks of International Business Machines Corporation. All other trademarks remain the property of their respective owners.