April 2002
---
Open Watcom - Getting Started
As Presented at SCOUG, March 2002
by Harry Chris Motin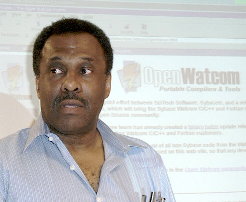 The Open Watcom project gives OS/2 users a powerful C/C++ compiler and Harry Chris Motin talked the entire SCOUG audience through the download and installation of this great resource at our March 2002 meeting. The installation is tricky since you have to pick-and-choose the necessary files from a few different places. Harry has created a simple checklist to follow that smooths the process.
Harry has graciously made his complete presentation - with links for the files you need - available to everyone for downloading: watcom.zip, 487,589 bytes
To use the presentation, unzip it, preserving the internal directory structure of all the files.
With UNZIP, no special action is required.
With PKUNZIP, use the -d parameter:
PKUNZIP -d watcom.zip
Then, change to the scoug_presentation directory and double click on "Index.htm," or load it into your favorite browser.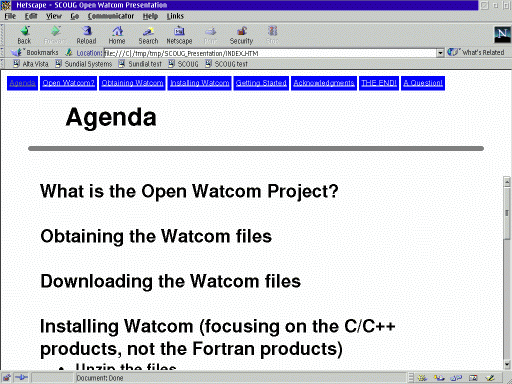 The presentation is web browser-based and is largely self-contained. You only go on the Internet to retrieve Watcom files. Many of the pages that look like the Watcom website are simply approximations of the real pages.
For those with DeScribe, the presentation is included in the word processor's format as the file "Installing Watcom Presentation" (100,272 bytes).
There is no readme file with the Watcom download. You simply download and unzip (perserving the internal directory structure). That's why these instructions are so very very helpful.
---
The Southern California OS/2 User Group
P.O. Box 26904
Santa Ana, CA 92799-6904, USA
Copyright 2002 the Southern California OS/2 User Group. ALL RIGHTS RESERVED.
SCOUG, Warp Expo West, and Warpfest are trademarks of the Southern California OS/2 User Group. OS/2, Workplace Shell, and IBM are registered trademarks of International Business Machines Corporation. All other trademarks remain the property of their respective owners.