August 2001
---
Making GhostView Work With Netscape
by Tony Butka
I know that a lot of OS/2 users have been frustrated by Adobe's abandonment of OS/2 ever since their Acrobat Reader version 3.0. After all, what's a 'universal' portable file format supposed to do, be universal? Right. Anyhow, life has been a little tougher for us, especially on the 'net when we try to access a site that uses pdf files -- Acrobat Reader 3 simply won't open many of the new version 4 & 5 files. There is hope, of course, or I wouldn't be writing this article. Read on.
As it turns out, the combination of Russell Lang's GhostView front end and GhostScript for OS/2 version 7 makes a handy dandy viewer for Netscape. Assuming that you have GSView/GhostScript installed, here's how to set up Netscape. (If you don't have GSView installed, read my July Ink column.)
First, open Netscape Navigator.
Next, go to "Edit --> Preferences". There you will see a list of choices.
When you click on "Applications", a magic box will appear like below: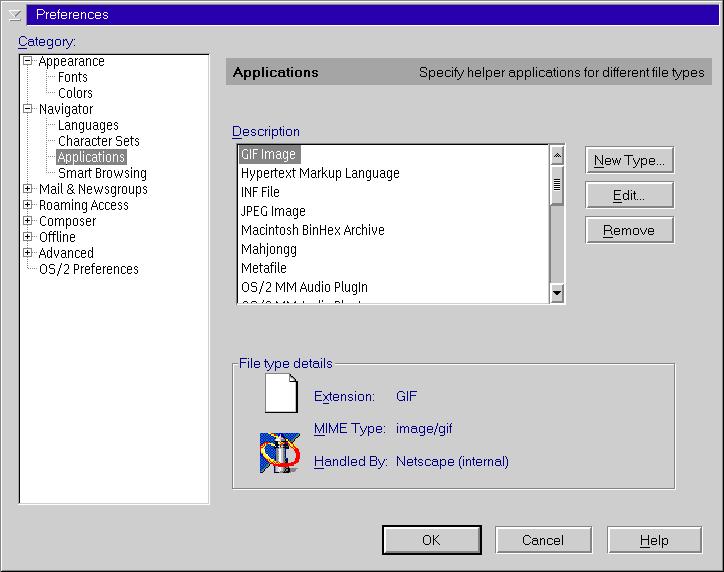 From this screen setting up GSView is a no brainer.
Under the "Application to use" section, make sure that you point to wherever you have GSView set up. For example, on my system, it's actually c:\usr\prg\gs\gsview2\gvpm.exe. Also, for the bold folk who want to also be able to view postscript and encapsulated postscript files, just add those file types into the "File Extension" box so that it reads: pdf ps eps.
Anyhow, when you do all this and save the result, you will have a new gee whiz pdf file viewer that will run within Netscape, just like Acrobat4 Reader does on those 'other' operating systems. To check your results before exiting the applications dialog box , you can click on the Applications box to make sure that your new Portable Document Format file association is listed. You should see something like the following: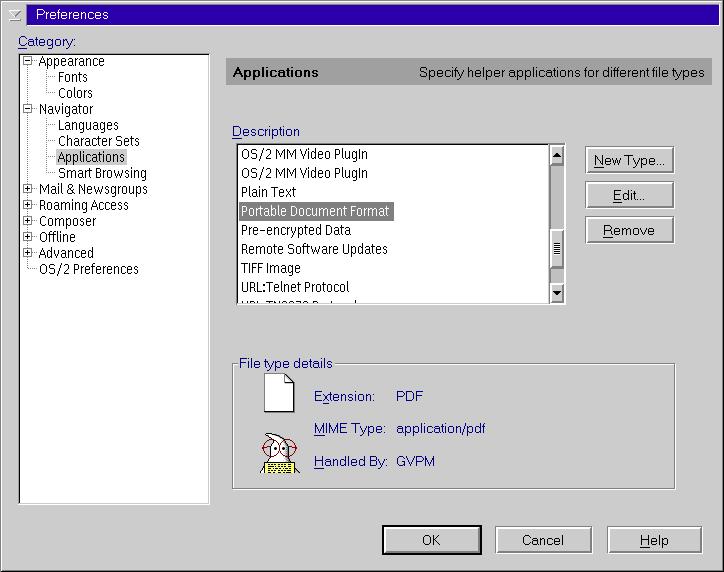 That's it! You now have your very own OS/2 pdf viewer for Netscape. Just run your browser, find a web page with a pdf, and enjoy. If you have any questions or suggestons about this brief tutorial, e-mail me at tony@scoug.com.
For those who have not yet installed GhostScript and GSView, you really should do so -- we did an install at the last SCOUG meeting and it was really simple. Again, the July 2001 Ink article details each step in the process, and gives links to Internet sites where you can get the files.
Hats off to Russell Lang for a great program, as well as the dedicated team who maintain and improve the GhostScript engine!
---
The Southern California OS/2 User Group
P.O. Box 26904
Santa Ana, CA 92799-6904, USA
Copyright 2001 the Southern California OS/2 User Group. ALL RIGHTS RESERVED.
SCOUG, Warp Expo West, and Warpfest are trademarks of the Southern California OS/2 User Group. OS/2, Workplace Shell, and IBM are registered trademarks of International Business Machines Corporation. All other trademarks remain the property of their respective owners.