DFSee
General Meeting Presentation for June 2001
Display File Systems (DFSee) is a generic partition and file system browser/analyser. DFSee supports partition-tables (FDISK, LVM), (V)FAT, FAT-32, HPFS-structures, some NTFS stuff and it might support different file-systems like JFS and EXT2 in the future.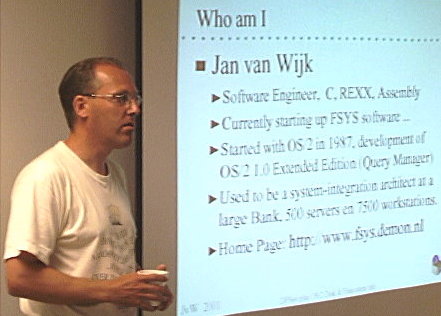 Jan van Wijk, the program's author, was here from the Netherlands to explain it all to us. You can download his Freelance presentation.
For most purposes DFsee is a complete FDISK replacement and at the moment a partial replacement for the LVM utility. DFSee also includes several 'fix' commands solving common problems and a simple sector-editing function to make other kinds of manual changes. For HPFS and NTFS it also includes UNDELETE functionality for files.
DFSee is freeware, and you can download it from Jan's web site, www.fsys.demon.nl.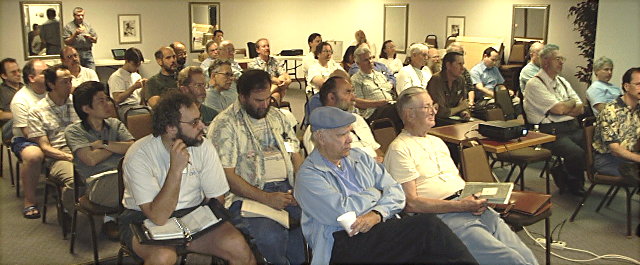 The audience was attentive during the DFSee presentation.
---
The Southern California OS/2 User Group
P.O. Box 26904
Santa Ana, CA 92799-6904, USA
Copyright 2001 the Southern California OS/2 User Group. ALL RIGHTS RESERVED.
SCOUG, Warp Expo West, and Warpfest are trademarks of the Southern California OS/2 User Group. OS/2, Workplace Shell, and IBM are registered trademarks of International Business Machines Corporation. All other trademarks remain the property of their respective owners.